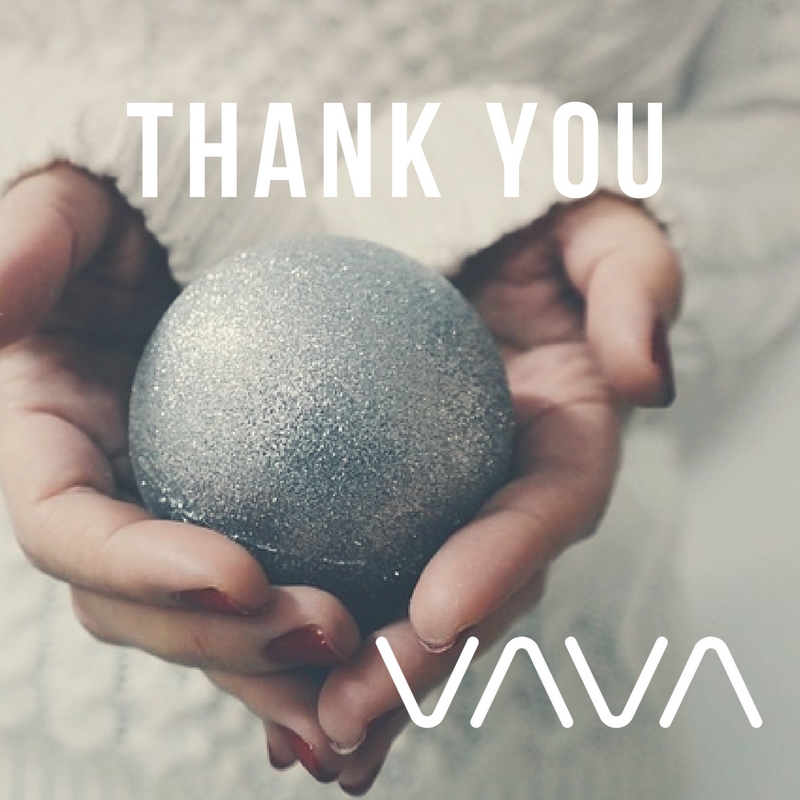 VAVA Shares "Thank You" Notes To People All Over The United States
Kathy Nguyen, 4 years ago
0
4 min

read
0
The end of the year is all about warm fuzzy feelings and showing appreciation to ones we love. That's why we decided to put a twist on last month's speaker giveaway – asking people to nominate ANOTHER music fan to win the VAVA Voom 20! The rules were simple: tell us why you're thankful for the nominee, and tell us what song reminds you of them.
So many great responses poured in from all over the United States. Of course it wouldn't be a VAVA giveaway without some music – so please enjoy the "thank you" notes and song suggestions from our awesome VAVA Nation community! Happy holidays everyone. 
---
Gerdus V. is my best friend in the world, he was there through my brain tumor and surgery, my ex wife bailing, my father dying and me losing my mind lol. Seriously best dude on the planet and he is raising a 2 year old while going through a divorce. – Anonymous
Song choice: Marilyn Manson – Third Day of A Seven Day Binge
---
Jade P. is my youngest sister, and she is truly becoming a wonderful young woman. She grows everyday with a special piece of all of her sisters but also with a vibe of her own. She doesn't see that in herself yet, but she will soon. She is the most supportive and open person to talk to. She listens with no judgments; always has open ears and an open heart. – Jessica P. 
Song choice: Bruno Mars – Just The Way You Are
---
My son Jordan K. is amazing and helpful, even though he works and is in high school. He always finds time to help me out. – TyAnn K.
Song choice: Will Smith – Just The Two Of Us
---
Orges A. is my best friend. I met him my first day of college. I knew no one, and he took me under his wing. He helped me when j was having a tough time with homesickness and I want to thank him for that. – Bobby M.
Song choice: The Avett Brothers – The Perfect Space
---
Jay B. is a former president and facilitator (that's 20 years) of support groups for families of the mentally ill. – Merle
Song choice: Glen Miller – A String Of Pearls
---
Shilpa V. is my partner, best friend, and supporter. She does so much for my daughter and me that I could never thank her enough. She always puts everyone else first before herself. – Greg
Song choice: Garth Brooks – Unanswered Prayers
---
Stevie R. is my autistic son who loves to listen to music everywhere he goes! – Roberta R. (a.k.a Mom) 
Song choice: Nat King Cole – Unforgettable
---
Jennifer P. is my rock, my soulmate, an unselfish dream of a human being that I would be lost without her. Jennifer is also the mother of my young awesome boys. She is the love of my life. – Julio G. 
Song choice: James Blunt – You're Beautiful
---
My dad Mike L. has been with me since day one. He has had such a great influence on me and I am incredibly thankful that he is such a good father. – Alex L.
Song choice: Rachel Platten – Stand By You
---
Colby C. has always been there for me. He is honest and forward thinking. I appreciate his ability to help other people and dream beyond his own skin. Colby is someone who has seen much trouble and seemingly always pushes through; he inspires me. – Sage S.
Song choice: The Mountain Goats – This Year
---
Michelle R. is my adult daughter. She is very successful in her career (at times almost married to it) but always rembers her Dad. She is a very intelligent, thoughtful and caring person. – James R.
Song choice: Oasis – Morning Glory
To listen to this complete playlist, visit VAVA on SPOTIFY
Missed last month's giveaway? Don't worry, we're teaming up with Miss Peregrine's Home For Peculiar Children to give away 12 awesome prize packs including movie posters, stickers, custom speakers and more! Details at promo.vavachallenge.com/missperegrine
#LetsVAVA
Kathy Nguyen
Kathy enjoys writing about trending pop culture and giving you the scoop behind your favorite musicians, entertainers and more.
Related posts