VAVA, a consumer electronics manufacturer of baby monitors, dash cams and other accessories, will be showing it's first projector offering at CES 2020. Vava has announced the VA-LT002, an Ultra-Short throw, 4K laser projector for the "laser TV" space. VAVA's projector can produce a 100-inch image when placed just 7.2-inches from a wall or screen, and touts a maximum screen size of 150-inches.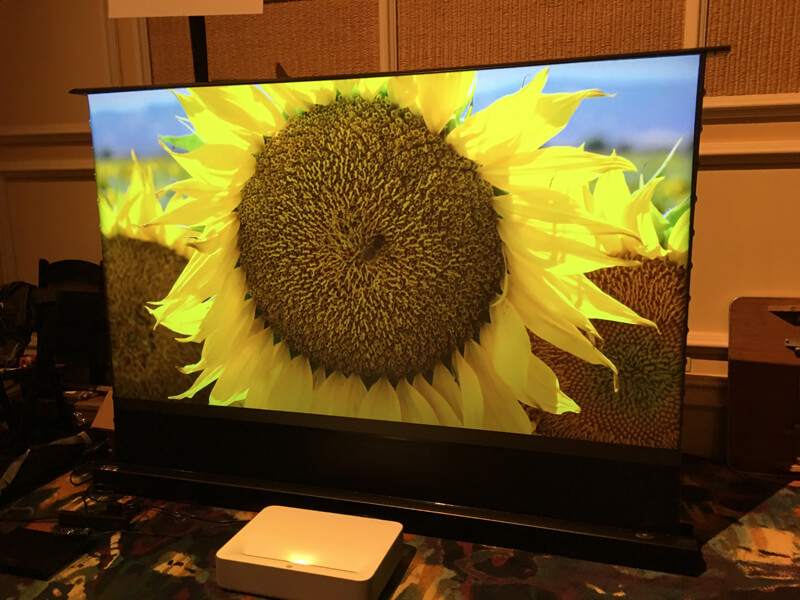 Other specs include support for HDR10 high dynamic range, a 1,500,000:1 dynamic contrast ratio, 2,500 lumens brightness and an 85%+ NTSC color gamut. The VA-LT002 incorporates DLP technology and has a three-segment color wheel. It utilizes Appotronics' ALPD 3.0 laser light source technology, with the laser light source rated for up to 25,000 hours. In terms of connections, the projector offers three HDMI , USB and RJ45 connectivity.
The VA-LT002 also features an Android operating system allowing users to navigate the Android platform to find content from available services. It is also Bluetooth capable and features a built-in 60W Harman Kardon stereo sound system with Dolby and DTS certification. This new VAVA projector also comes standard with "Intelligent Eye Protection" where Smart IR sensors will detect and dim the lasers to the appropriate level for optimal viewing.
Following it's launch via an Indigogo campaign, the VAVA VA-LT002 is available now via the companies website and on Amazon. The MSRP is $3,499, but it is currently being offered at an introductory price of $2,799.
Display market analyst firm PMA Research collects both sell-in and sell-through data on projector unit and revenue sales. Their most recent Census and Tracking Service reports show steady year-over-year worldwide growth in the in the 4K UST laser projector segment.
Article from Pmaresearch.