Trevor Wentworth, vocalist of the self-described "New Found Glory meets Rise Against" band, is busy preparing for Our Last Night's Face to Face tour. The metal band will be hitting all the major U.S cities in mid-November including San Diego, Chicago, Orlando and New York. It's without a doubt that Youtube covers brought more exposure to OLN and helped expand their fanbase – but this is NOT just another cover band. In fact, it would be more accurate to say that this talented group just happens to be good at cover songs. The quality and popularity of their stand-alone singles make this band one of 2016's most exciting break-out artists. VAVA caught up with Trevor to learn more about his talented crew, and find out what's next for Our Last Night.

Where are you from, and what was it like for you growing up there?
I'm from a VERY small town in New Hampshire called Hollis. We had one stoplight, no chain restaurants and everything closed at 8pm. I really liked growing up there, especially because I started touring at such a young age. It was very nice coming back from a long tour with my band and knowing that I would be able to have so much peace and quiet before leaving for the next one.

Can you tell us what got you involved in music, what your specialty is, and what role you have in your band?
I sing and occasionally play guitar in my band Our Last Night. The band really just started out as a hobby but after playing ONE talent show at our High School we KNEW that being in a band was exactly what we wanted to do for our entire lives.

How and when did your band form and what would you describe your music as? 
Our band officially formed in 2004 just from a couple of friends picking up instruments and playing some cover songs in my basement. I would describe our music as, energetic, moving, positive and fun.

Who are some of your musical influences?
I would say my personal influences would be anything from Blink – 182 to Coldplay. I can find musical influences from a LOT of different styles of music.

How did you get started on Youtube and what fueled your meteoric rise on that platform?
Funny story actually, About 3 – 4 years ago our manager was trying to convince us to start doing covers on YouTube because he thought it would be a good idea to get our band name out there and gain some new fans. We were very hesitant at first because we didn't want to be known as "that cover band". But we trusted him, posted our first cover, which was "Skyfall" by Adele. It got over 150,000 plays in the first day and was reposted by some of the biggest news & blog websites in the world. Right then and there we decided to continue doing covers, and ever since it has helped our band in more ways than you could imagine.


Choose 4 songs (not including yours or your bands) that describes you.
That is a tough question, but I'll give it a go!
Coldplay – Fix You
Circa Survive – Frozen Creek
Bad Suns – Cardiac Arrest
Taking Back Sunday – This Is All Now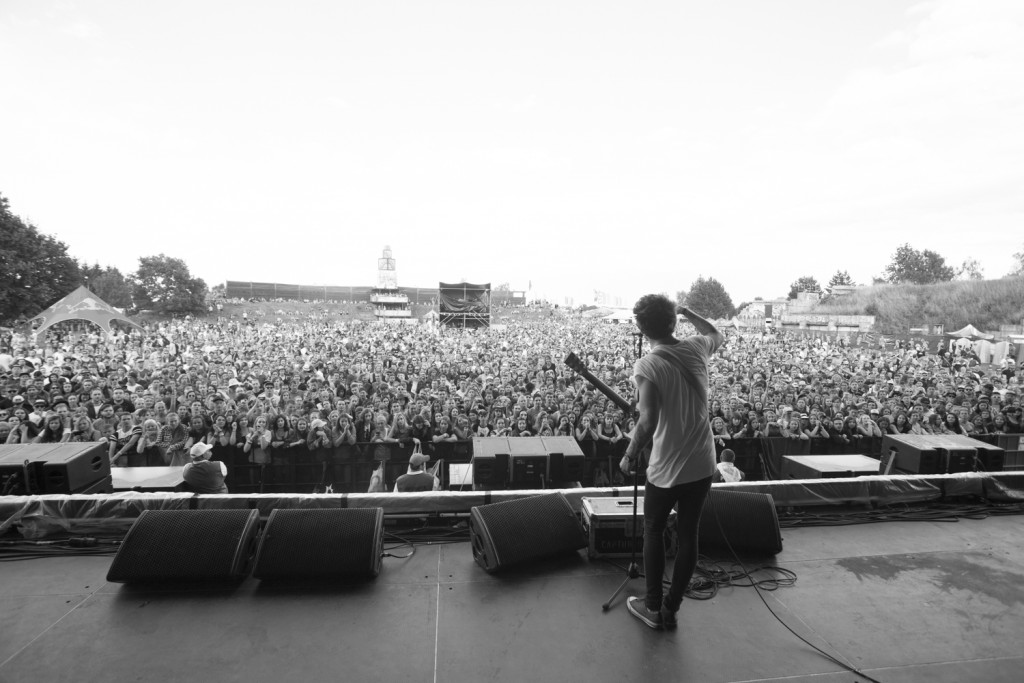 What are you working on now and what's next for you and your band?
Well, we are on tour right now in South America for the first time then right after this we head to Europe for a few weeks, then finally back home to starting writing songs for a new record! And I could not be more excited.

If you weren't in your existing band, what band (from all time) would you have wanted to be a part of?
That is a GREAT question! As I mentioned before Coldplay is one of my BIGGEST influences, if I could ever be in that band, even playing guitar, that would be a real dream come true. Chris Martin writes some of the most epic songs of all time and I would love to be a part of that.

Can you tell us what is most important to you in life?
The most important thing in life to me is family and truly being a good person. While traveling with my band I witness some true ignorance come from people for no reason at all. Thats not how life is supposed to be. So I take pride in being extremely nice to EVERYONE and helping out as many people as I can because when I die, I know that I would be happy with who I was as a person.
Rock out to Our Last Night!
Website: OurLastNight
Youtube: OurLastNightBand
Facebook: OurLastNightBand
Twitter: @OLNband
Spotify: OurLastNight
OLN Instagram:  OLNband
Trevor Wentworth Instagram:  @trevor_michael
>>This is the last week to enter the August giveaway for the Voom 20 speakers, and other awesome prizes! Concert tickets, Spotify credit and Amazon vouchers to name a few. Check out Trevor's video below for more details or simply check out this link<<