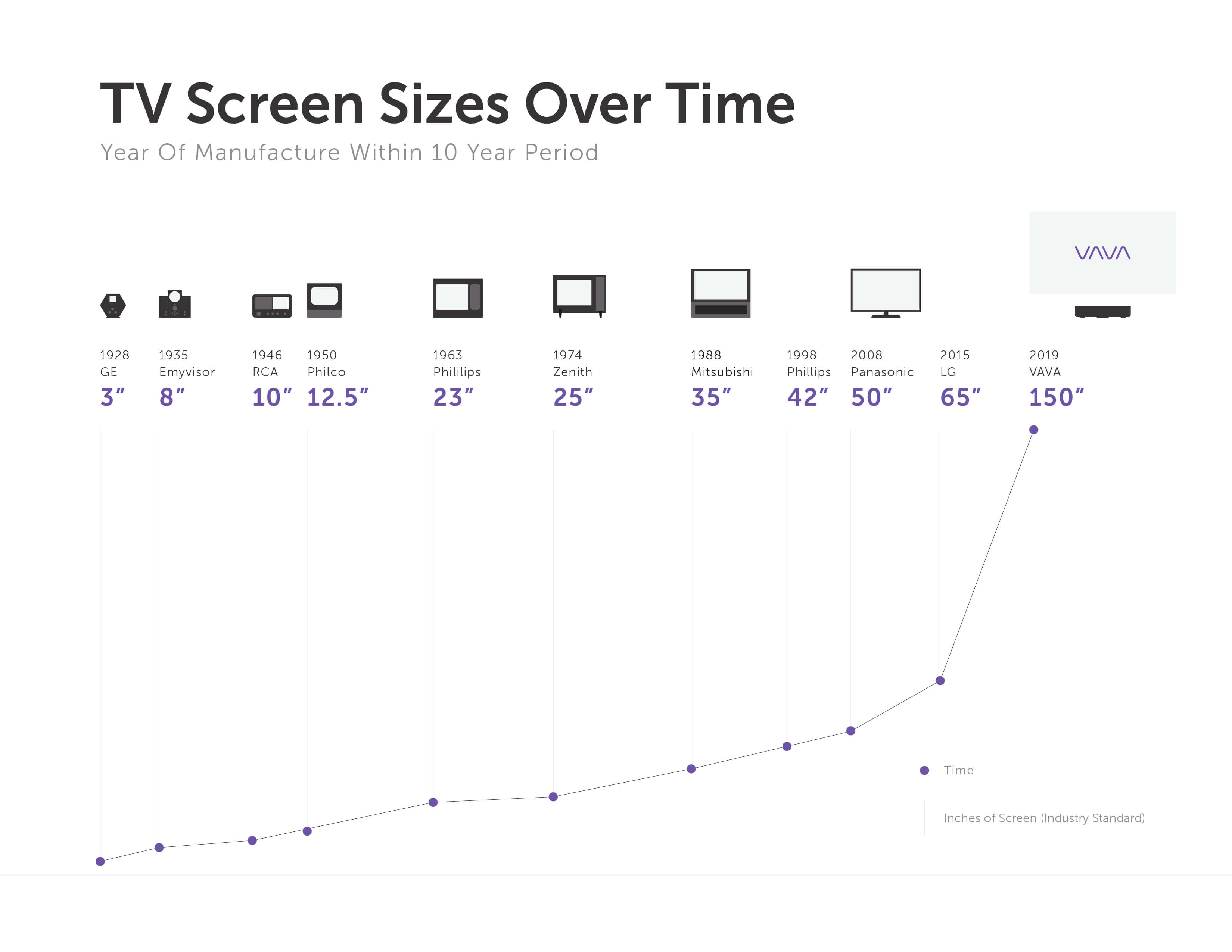 The 1920's General Electric introduced to us a television with a 4-inch screen, fast forward 100 years, and VAVA has engineered a remarkable 150-inch screen laser TV. Over the course of history, the way we broadcast and stream our media at home has been at the forefront of tech advancements. Particularly in our screen sizes, that continually become bigger and bigger. According to a study conducted on the role of screen sizes, researchers found that participants who watched videos on a larger screen perceived a greater sense of involvement with image movement, excitement, and displayed an increased sense of physiological arousal overall (Lombard M., Reich RD., Grabe ME., Bracken CC., Ditton TB., 2006).

After 100 years, society deserves a larger screen image, sleek / non-intrusively designed hardware, and exceptional picture quality. Making the reason for moving towards a Laser TV system simple; it is simply more enjoyable. Moreover, Laser TV systems offer the best qualities that mainstream television sets have sought to perfect throughout time.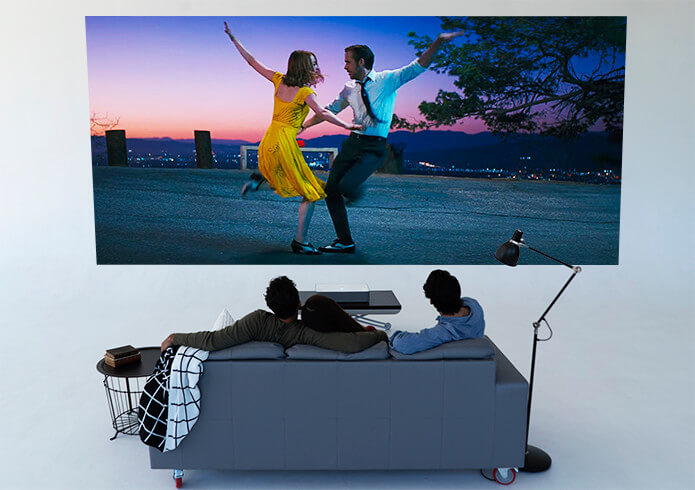 Multiple factors determine a great TV experience. In the late '90s, larger flatter screens became the necessary component for television sets. Later, the 2000s gave us a 4K quality image. The new '20s starts with Laser Television, which gives us screen-free projection, 4K quality plus multiple other factors that make for a great TV experience. Folks from a century ago would be proud of where we're heading!

Time has shown us that bigger screens are the future of home cinema and Innovation led us to this new way of watching. Your next-generation home theatre awaits! Check out our award-winning Ultra Short Throw 4K Laser TV and comment below how you think a larger screen using laser technology could change your home streaming experience?
4K Ultra Short Throw Laser Projector
References
Lombard, M, et al. "Presence and Television." Wiley Online Library, John Wiley & Sons, Ltd, 10 Jan. 2006, onlinelibrary.wiley.com/doi/abs/10.1111/j.1468-2958.2000.tb00750.x.
Morrison, Geoffrey. "Are TVs Really Cheaper than Ever? We Go Back a Few Decades to See." CNET, CNET, 23 Nov. 2017, www.cnet.com/news/are-tvs-really-cheaper-than-ever-we-go-back-a-few-decades-to-see/.
Nelson, Phil. "RCA 630TS Television (1946)." RCA 630TS Television (1946), antiqueradio.org/RCA630TSTelevision.htm.
Rinker, Harry. "RCA TELEVISIONS FROM 1940S ARE AMONG MOST POPULAR." Mcall.com, 19 Dec. 2018, www.mcall.com/news/mc-xpm-1991-12-08-2823140-story.html.
Staff, Reviewed. "2015 Best of Year Television Awards." Reviewed Televisions, Reviewed.com, 9 Nov. 2015, www.reviewed.com/televisions/features/2015-best-of-year-television-awards.
Thomas. "DuMont Royal Sovereign Restoration – By John Staples W6BM." California Historical Radio Society, 22 Feb. 2017, www.californiahistoricalradio.com/restorations/dumont-royal-sovereign-restoration-john-staples/
Waring, Becky. "1988 Vs. 2008: A Tech Retrospective." PCWorld, PCWorld, 22 Feb. 2008, www.pcworld.com/article/142550/article.html?page=8.
N.a, "Early Electronic Television." 1935 Model 95 Emyvisior, www.earlytelevision.org/emyvisor_1935.html.

N.a, " Television History – The First 75 Years." Pre-1935, www.tvhistory.tv/pre-1935.htm.
N.a. "Vintage Electronics/ TV of the 1970s (Page 5)." Vintage Ad Browser, www.vintageadbrowser.com/electronics-ads-1970s/5.
N.a. "Vintage Televisions." Rewind Museum. Vintage Television Museum. The 1948 Bush Model TV-12 Bakalite TV. The 1955 Ekco TMB 272 Portable TV., www.rewindmuseum.com/vintagetv.htm.
Related posts