Hidden Features of the VAVA Dash Camera
Dave H, 7 months ago
0
5 min

read
0
You probably already know that VAVA dash cams feature high-quality video recording in a compact, user-friendly package. You probably know that it suction cups to your windshield and captures footage from your road trips and potential car accidents. And you probably also know that these videos come in handy during family reunions and when dealing with insurance companies.

But there's a lot more to the VAVA dash cam range than meets the eye.

So, we're lifting the veil and giving you the low-down on the best hidden features of the VAVA dash cam.

Extra Recording Capabilities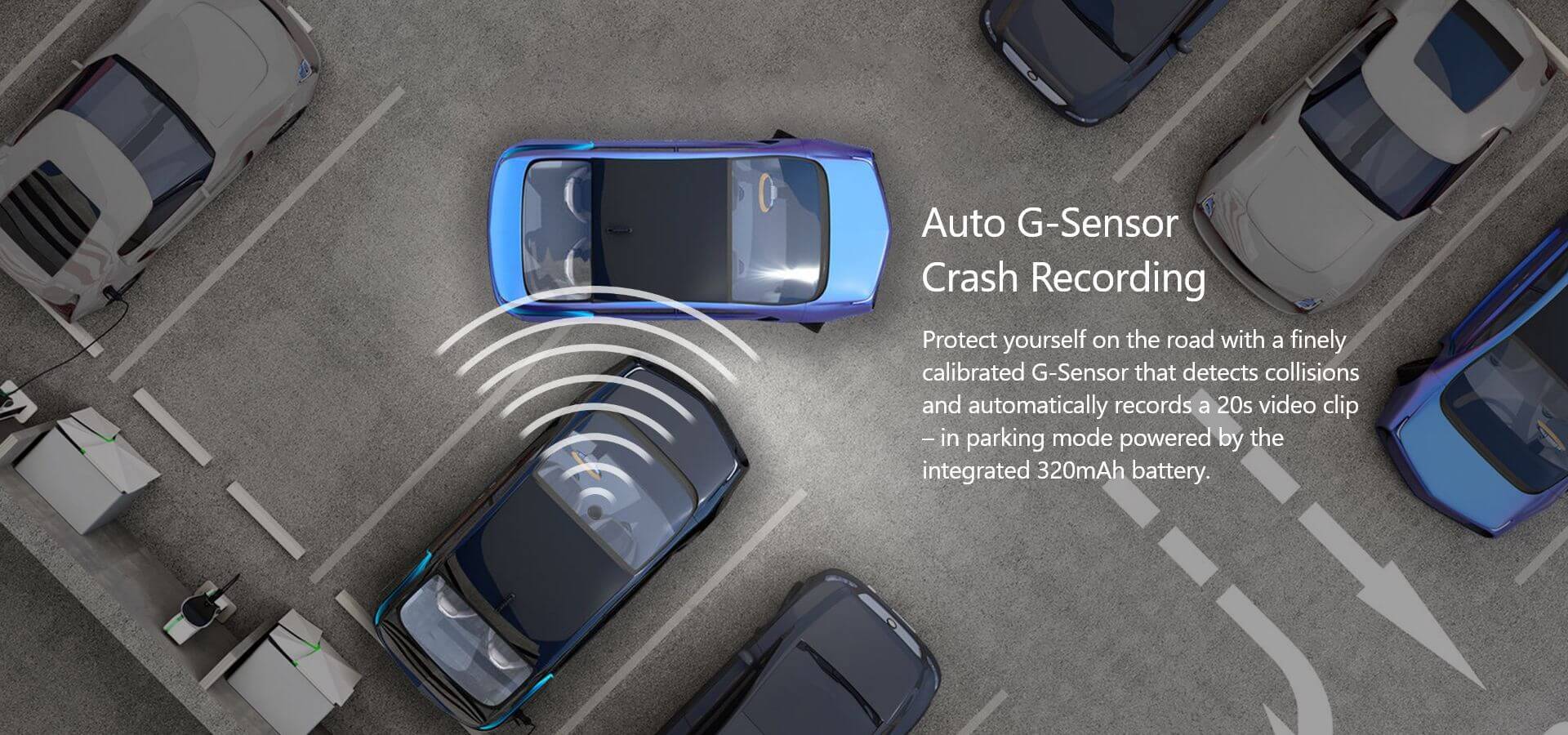 Some of the hidden features that users love are all the recording options. From loop recording to a built-in G sensor, there's a lot going on.

First of all, our dash cam starts auto-recording as soon as you start your engine. Think of it like a DVR for your car. Even if your SD card is full, the dash cam continues loop recording by deleting old footage that you don't need and replacing it with current videos.

The built-in G sensor detects sudden shocks or collisions, records the incident, and makes sure it's saved to use in an insurance claim. After all, protecting yourself during an accident is probably the main reason you have a dash cam in the first place. Therefore, this feature is a game-changer.

Our dash cams also come with night vision and parking monitoring. It's like a high-tech security system for your vehicle. The VAVA dash cam can be set to continue recording even while your car is parked. If anything happens to your car while you're not in it, you'll have footage of the incident – day or night.
The VAVA Dash App and Wi-Fi Compatibility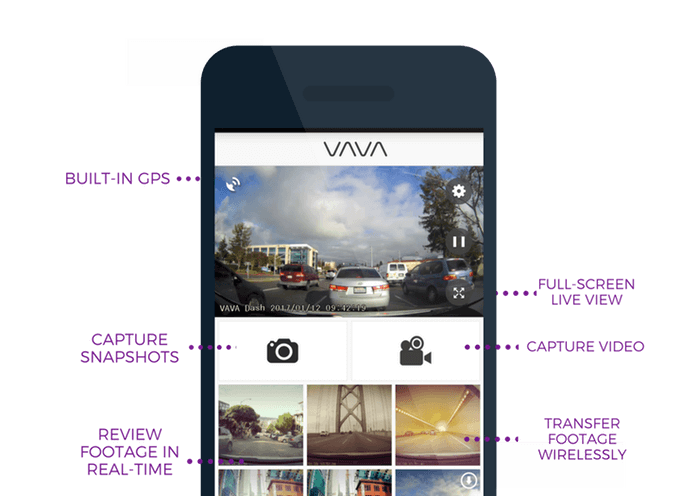 To be clear, VAVA dash cams don't create a wireless network. They simply use a high-speed connection to transfer videos straight to your smartphone via the VAVA Dash app. Most cars have Wi-Fi-enabled cabins but if yours doesn't, the VAVA dash cam uses your LTE network instead.

Gone are the days of constantly switching out SD cards and manually uploading your dash cam footage. Plus, everything you transfer gets saved online. This frees up valuable storage space on your phone without deleting any footage.

The VAVA Dash app also does wonders for the overall user-friendliness of VAVA dash cams. You control everything from your smartphone. That means you're not dealing with confusing, tiny buttons on the dash cam itself – as is the case with many other products on the market.

In fact, there are hardly any buttons on the actual dash cam at all, adding to its sleek, compact design. Instead of a display on the dash cam, your phone is the display. These days, we use our smartphones for everything, making VAVA the dash cam of choice for modern drivers.

And did we mention that you can share your footage directly to social media from the app? So, if you capture a hilarious incident on the road with your dash cam, post it to Facebook. You never know – it could go viral.
GPS Tracking
Another hidden feature we want to make sure to share is GPS tracking. Knowing the GPS location of where your footage was captured is useful for many situations.

It's beneficial for insurance companies when filing a claim after an accident as well as when documenting the mileage of your vacation. Plus, the VAVA Dash app can even tell you your speed, route, and other information that is sure to come in handy.

We get it. It's not the most exciting feature and it's clear why it's not the first to be mentioned. But you'll be glad it's there when you're calculating how much mileage your car got during last month's road trip or where exactly you were (and how fast you were going) when yesterday's unfortunate car accident took place.

Sometimes it's the less flashy features that turn out to be the most important.
Ability to Take Still Photos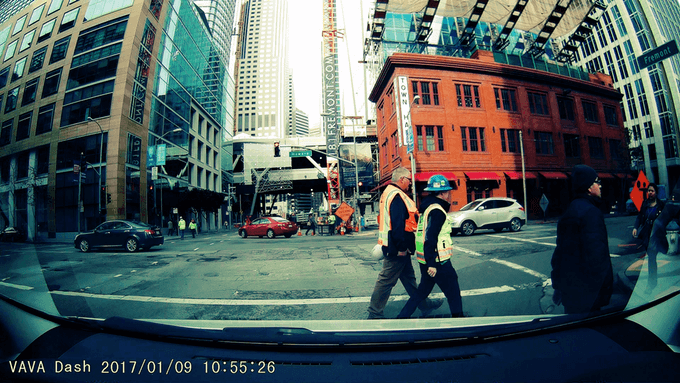 When we think of dash cams, we often think only in terms of video recording. However, with VAVA dash cams, you can take stunning still photos as well.

Using the VAVA Dash app, you can snap a picture without interrupting the video recording. With a super-wide 170-degree field of vision, our cameras give you an incredible vantage point. So, when you want to post an unbelievable photo of the Grand Canyon on Instagram as you drive past, use your VAVA dash cam to do it.
360-Degree Swivel and Dual Cam Options
If you mainly use your dash cam to protect yourself from insurance fraud, you probably keep your camera facing the road. But what about those family road trips or travel vlogs you've been meaning to record? VAVA dash cams are a great way to capture what's going on inside the car, too.

You have two options for recording both inside and outside your vehicle with a VAVA dash cam. Either use the 360-degree swivel to turn the camera around or try the VAVA Dual Dash Cam that has a 2K camera pointing out and a 1080p camera filming the cabin.

These capabilities are also great for Uber, Lyft, rideshare, and taxi drivers to keep them safe and accountable.

So, go ahead! Film your kids singing along to Frozen in the backseat. When you lovingly embarrass them with it on their 18th birthday, you'll be glad you had the dash cam to do it.
With a range of dash cam options, VAVA has something for everyone. From the vlogger who wants to capture killer road shots while updating their followers, to the parent who wants to keep their car (and insurance claim) safe, these hidden features take VAVA dash cams to the next level.

Which model do you have your eye on?

Related posts