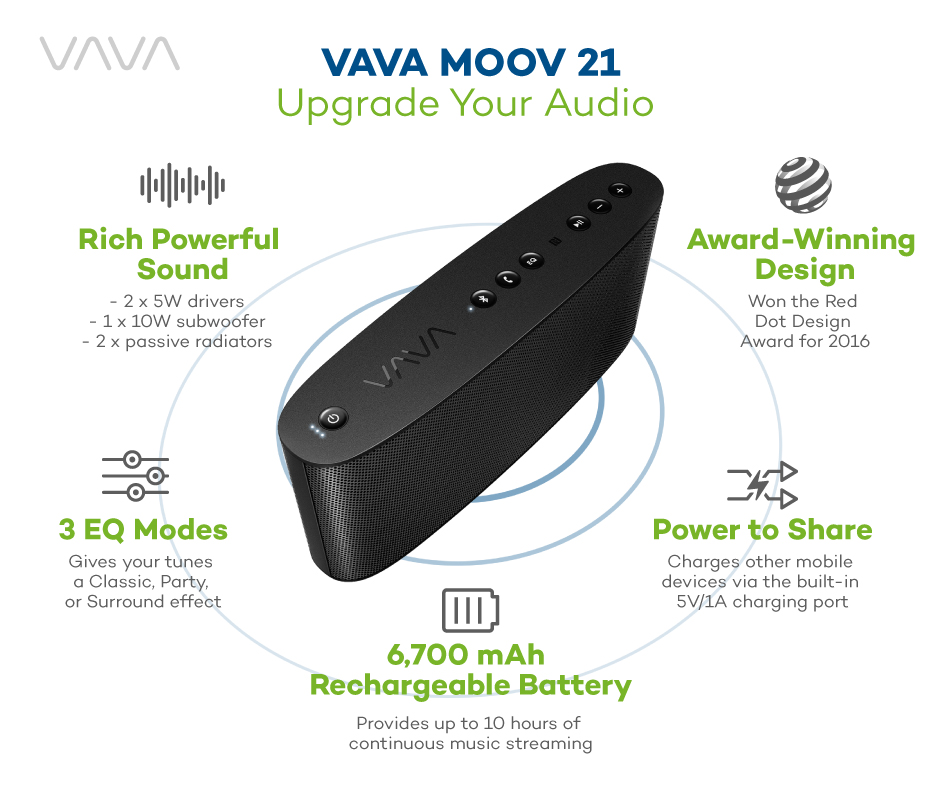 If you thought that a higher price tag unconditionally equals a better Bluetooth speaker, you could not be more wrong. Featuring solid hardware, an array of convenient, built-in features, and allowing the users to fully customize the audio experience to their liking, the award-winning VAVA VOOM 21 Wireless Speaker sets itself as a valid option for those who seek best in class audio quality while trying not to drain their bank account.
Read on and learn why the VAVA VOOM 21 Wireless Speaker provides better audio, more extensive functionalities, and an overall more complete user experience than your standard Bluetooth speaker while coming at a third of the price.
Rich Powerful Sound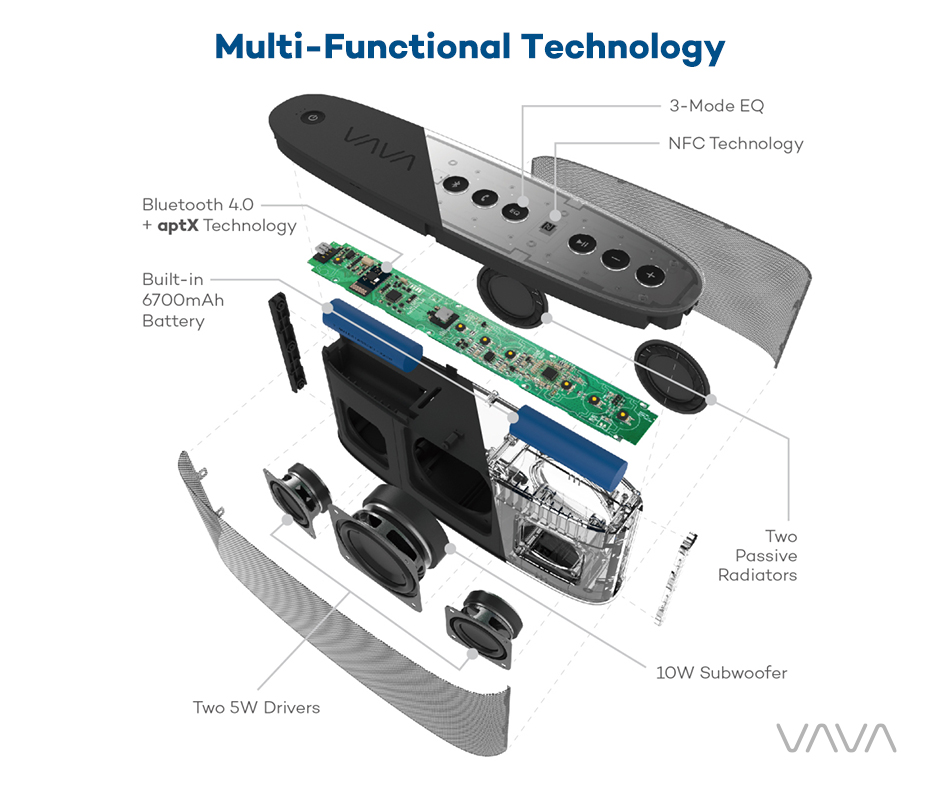 No matter what tunes you play, these will sound dull if there's not the proper hardware to stream them with. Coming with an array of 2 x 5W drivers, 1 x 10W subwoofer, and 2 passive radiators, the VAVA VOOM 21 has all it takes to provide a rich, full sound while preventing distortion.
Each of the dual 5W drivers reproduces a different part of the audible frequency range for a more complete, high fidelity audio
Powerful subwoofer packs 10W of power to reproduce low-pitched audio frequencies
Two passive radiators removed of all unnecessary "guts" allow the passage of air and enable the woofer to produce more audible bass frequencies
Stellar Battery Life
Whether the speaker is being used to stream music at a party or festival, or reproduce audio for an immersive surround effect while watching movies, the fun will soon end if it runs out of battery.
At VAVA, we packed a massive 6,700 mAh lithium-ion rechargeable battery into the VOOM 21 that allows for up to 10 hours of music streaming or hands-free calling.
Power to Share
The speaker's vast battery capacity allows for this to double as a portable charger. By means of the built-in 5V/1A output, the VAVA VOOM 21 can be connected to other mobile devices to power them when a socket is not available.
A common scenario would be during a party or picnic where the speaker's spare power enables you to recharge your phone without needing to carry an extra powerbank in your backpack.
Three EQ Modes to Choose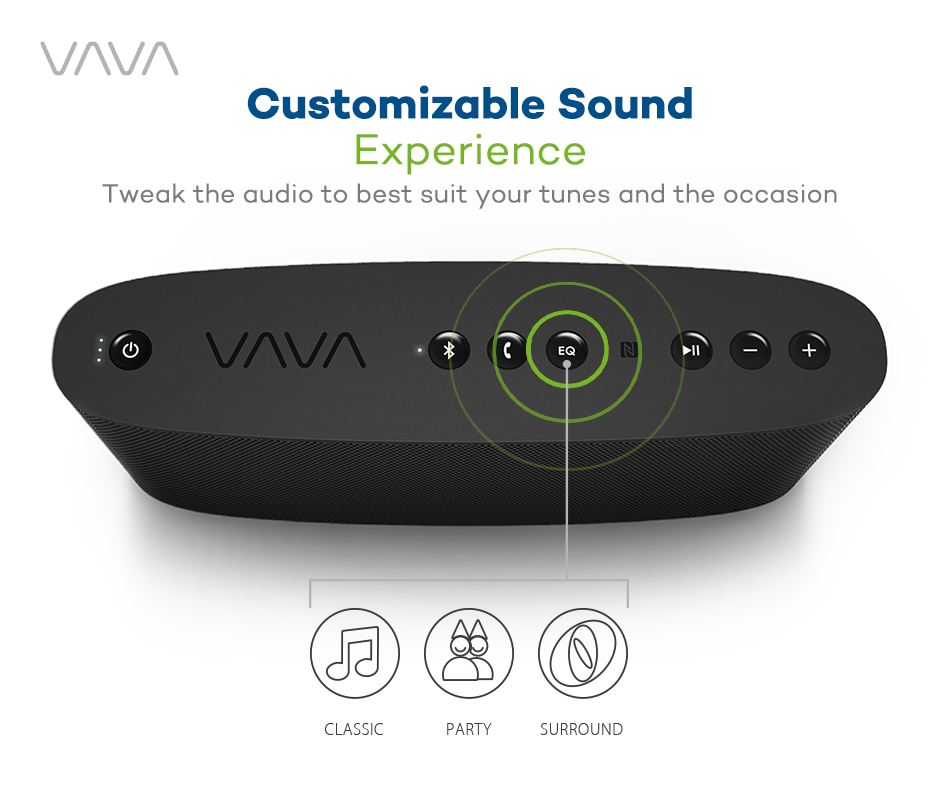 Unlike other speakers that don't allow the users to alter the preset values of bass, midrange, and treble, the VOOM 21 enables you to further customize the audio experience by choosing between three preinstalled, differently tweaked EQ modes:
Classic: Bass, mid, and high frequencies are finely balanced for a crisp, uniform sound
Party: Brings out the bass for a fuller, more powerful audio reproduction
Surround: Emphasizes high and bass frequencies while adding an immersive effect ideal for gaming, movies, and more
Depending on what genre of music you are listening to and what sound frequencies are predominant, choosing an equalization mode that emphasizes certain sound values over others allows for the audio to perform at its best.
In addition to better audio, the listeners get to further personalize it based on the situation, their mood, or simply their liking.
Learn more about customizable audio by reading our blog EQ Mode: What it is and why your speaker needs it.
Award Winning Design
First exemplary of a legacy of customer-centric designed devices realized in collaboration with San Francisco based Y Studios, the VAVA VOOM 21 has been awarded the internationally renowned product design prize Red Dot in 2016.
"The integral part of our design process, which we call Culture-driven Design, is that we look beyond the user to focus on the surrounding environment and lifestyle in order to deliver a solution that is Useful, Beautiful and Meaningful" says Wai-Loong Lim, founder and CEO of Y Studios. "If you look at the Voom, you can see that it's a timeless design consisting of very few parts, and those few parts work together in tight harmony to deliver an experience that fits the fluid lifestyles of the user culture we are targeting".
Get the know Wai-Loong Lim, the designer behind the VAVA VOOM 21.
The VAVA VOOM 21 features a minimalistic design that's shredded of any superfluous detail in order to provide the user with an intuitive, straightforward approach to control the audio.
While the buttons are fully accessible by being on top, the speaker grill runs all around the device for a 360-degree audio experience that reaches the users no matter where they're standing.
The sleek, matte black finish contributes to an elegant look that easily blends in no matter where placed, being this the living room, the studio, etc.
When shopping for a portable audio speaker, numerous are the variables to take into account. These include but are not limited to the hardware specifications, design, features, ideal usage, and of course your own personal feeling.
Yet believing that a higher price tag corresponds to an overall better sound experience is amongst the most misleading myths one can encounter when on the market for an audio device.
The VAVA VOOM 21 is a valuable option that will please all audiophiles and music enthusiasts by providing a solid specs sheet, an exclusive award-winning design, and simply great audio quality without breaking the bank.
Related posts