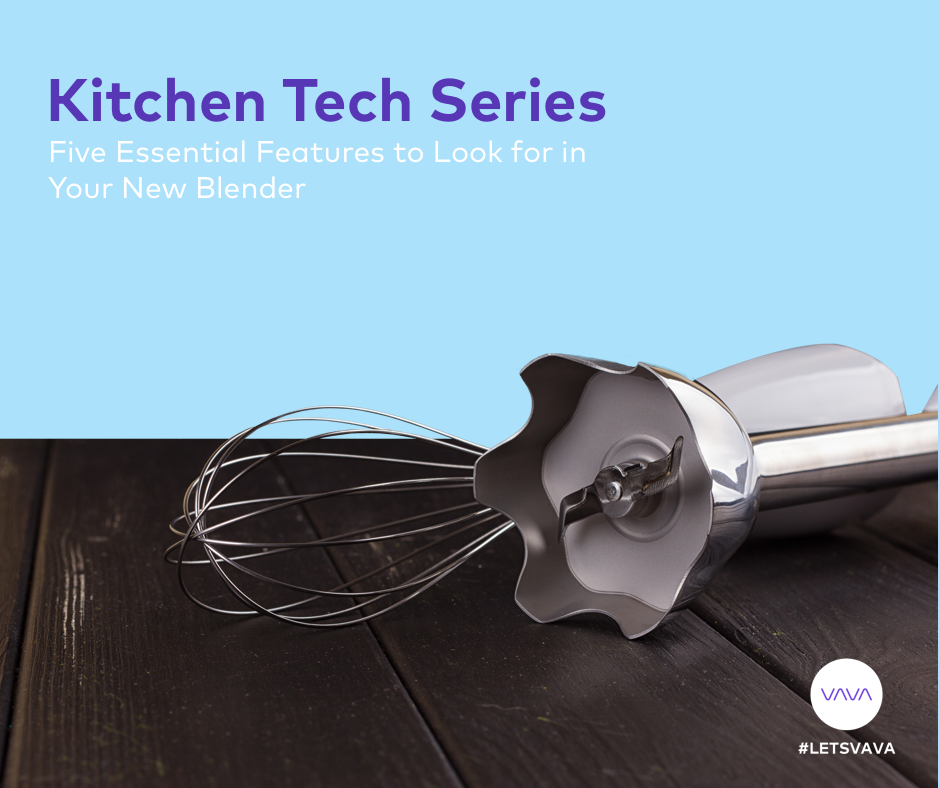 Kitchen technology has an incredibly vast and particularly interesting history. Electric pop-up toasters, for example, were originally invented by a Scot named Alan MacMasters in 1893, creating a machine solution for what has been a common and popular cooking method since ancient Rome. The world's first electric kettle was born in Chicago and took 10 minutes to boil water, almost slower than the open flame versions used in 3500 B.C. in Mesopotamia.
Today, you can spend an absolute fortune decking out your kitchen with all the latest in gadgetry. Navigating the nearly endless lists of potential brands, models, versions, and types of kitchen appliances can also take precious time out of your already busy days. As such, we at VAVA are keen to introduce our newest blog series on kitchen technologies, providing you with the ultimate guide for picking up the right tools to make cooking easier and far more pleasant. And today, we'll be starting off with the world's favorite smoothie and milkshake manufacturing tool: the blender!
For those of you who may never have stepped foot into a kitchen before, a blender is a small appliance that allows you to purée, break down, and ultimately mix together a collection of added ingredients. You can largely categorize blenders into two camps: a countertop model, which includes a glass or plastic container where your mixtures are created; and immersion blenders, or hand-held models, used for soups, baking, and other needs. Looking specifically at the former, let's talk about five things to keep in mind for when hunting for that perfect blender.
Motor Size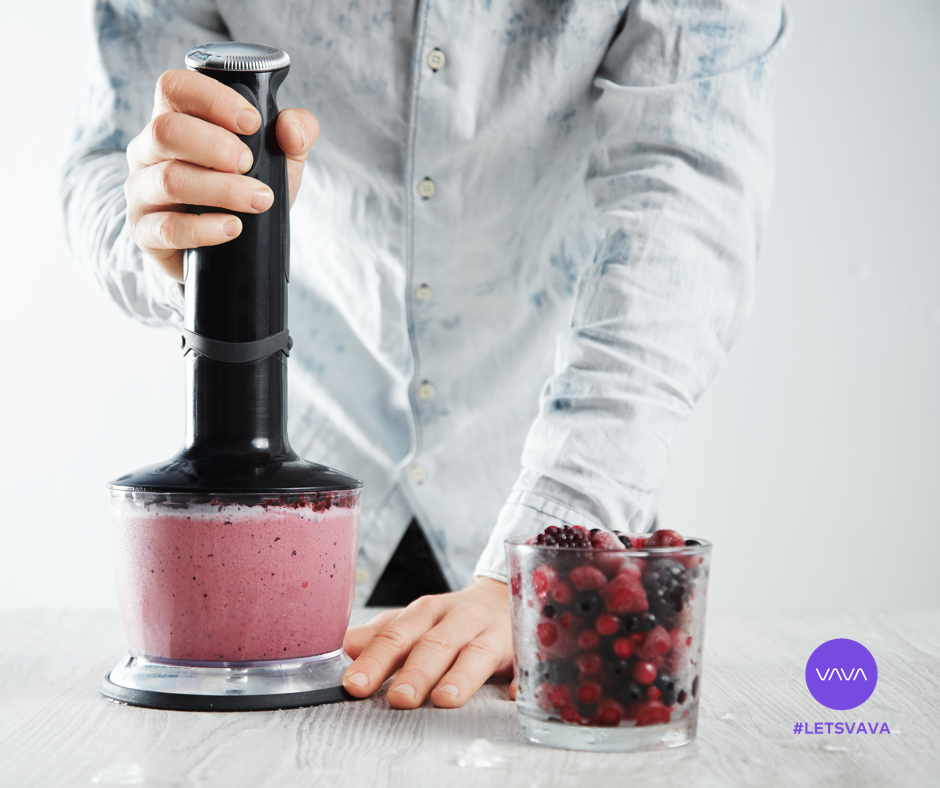 When shopping for a blender, it's important to be cognizant of marketing techniques. You'll often see prominent displays of wattage and horsepower on blender packaging, the implication being that more is better. Well… that may not be the case. According to research, what matters in blenders isn't the wattage number, which is the power consumed by the appliance's motor, but instead the power generated by that motor. You wouldn't buy a car based on how much gas it consumes, especially if it still drives incredibly slow. Horsepower is also a poor indicator of blender performance. The best approach is to read reviews and look for a number of things: consistency in blender speeds (no drop outs); motor life longevity; and, strength of the blades' initial torque.
Blending Container Size
Motor size and power is just one factor to consider when buying a new blender. The size of the holding container also matters! Remember, the holding container is the large glass or plastic unit that sites on top of the blender's motor base. When picking out a blender, be sure to give some thought as to how you'll be using it. Are you single and a lover of morning smoothies? It's likely you won't need an enormous container. But if you're a family of 10 and everyone wants their food blended on a regular basis… well, you might want to opt for a container that's a bit bigger. But, we suppose you could opt to just use the world's largest blender in Orem, Utah, or use 15-20 blenders simultaneously like these Canadian university students did!
Size of Your Kitchen
Blenders, especially the countertop variants, take up space. On average, the footprint of a blender hovers somewhere around the 8 by 15 by 10 inch mark, and will range between 7 and 13 pounds. If you plan on keeping your blender on the counter at all times, make sure it doesn't take up room needed for other activities. Consumer Reviews suggests that before heading out to the store, be sure to measure the height between your counter and kitchen cabinets, so it can stand up straight. Again, if the blender is only being used by you, and you have a tiny, closet-sized kitchen, you might opt to pick either a handheld immersion blender or one specifically designed to be personal sized.
Materials and Certifications
We can't say this any other way – pay attention to the materials your blender is made of. For container, you can normally find either glass or plastic variants. Both have pros and cons. Glass tends to be less durable than plastic over the long term, being prone to scratching and cracks, while the latter blender container can absorb unfortunate smells and colors of food. There's actually a third option here as well: stainless steel. This bad boy is the strongest of all the blender container materials, although it has the downside of not letting you see your mixture until you pull the lid off. Blades should be made of steel and the gasket of strong, durable rubber. When buying a blender, keep an eye out for external certifications as well. Independent review for home use by the NSF is a great place to start, as well as any indications of food-use safety approval from the FDA.
Additional Features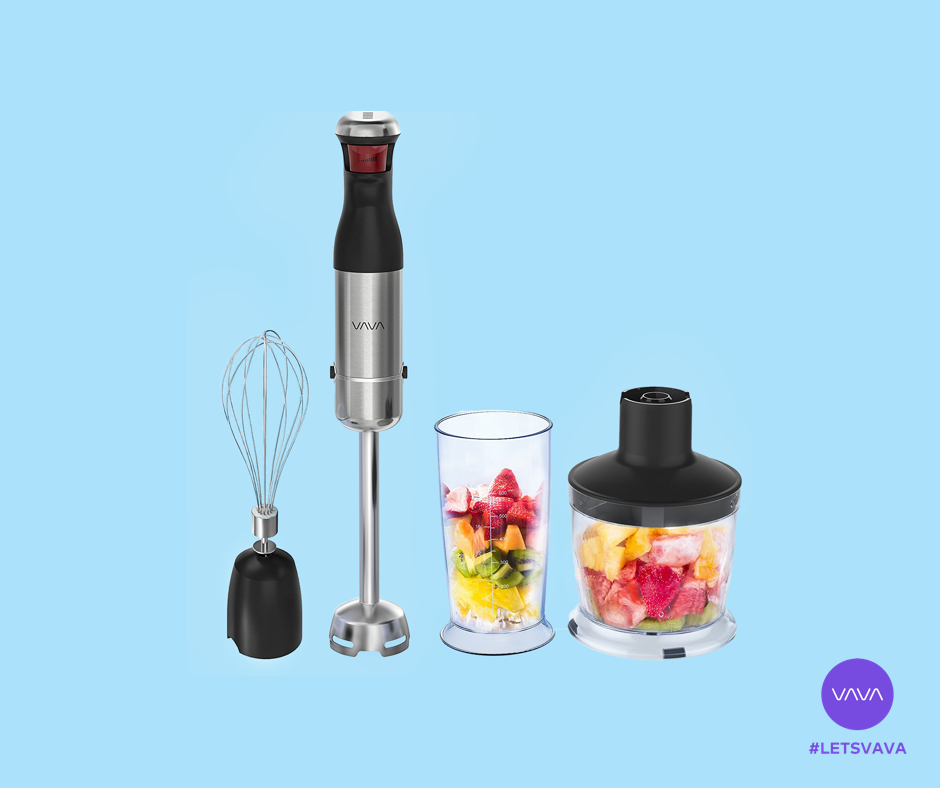 Now for the fun stuff! These days, blenders can be purchased with a huge range of additional features. Look for blenders that offer specific controls beyond low, medium, and high; those that use special blend programs for identified food items, called multifunction units. Other blenders will have containers that come off and can be used as portable jars for taking your drink or food on the go. The Spruce says you should also find a blender with a prominent spout on its container, making pouring just that much easier. Be sure to look beyond the surface – blenders can advertise the popular wave-action technology for making frozen drinks but read reviews to make sure that it's effective. Oh, and be on the lookout for warranty information. Most manufacturers will protect their product for at least a few years, so factor that into your purchase as well. And yes, if you're really feeling futuristic, some blenders also come Wi-Fi capable.
The idea of the blender has been around since it was first patented in 1922, but it has certainly come a long way since then! Whether your chopping ice for patio season or creating the perfect pasta sauce, a blender is an essential tool for every kitchen in America. And by thinking about the above five components that make a great blender, you'll be ready to make the best possible decision in buying this great piece of kitchen technology.
What is your favorite blended food or drink? Tell us in the comments below!
Related posts