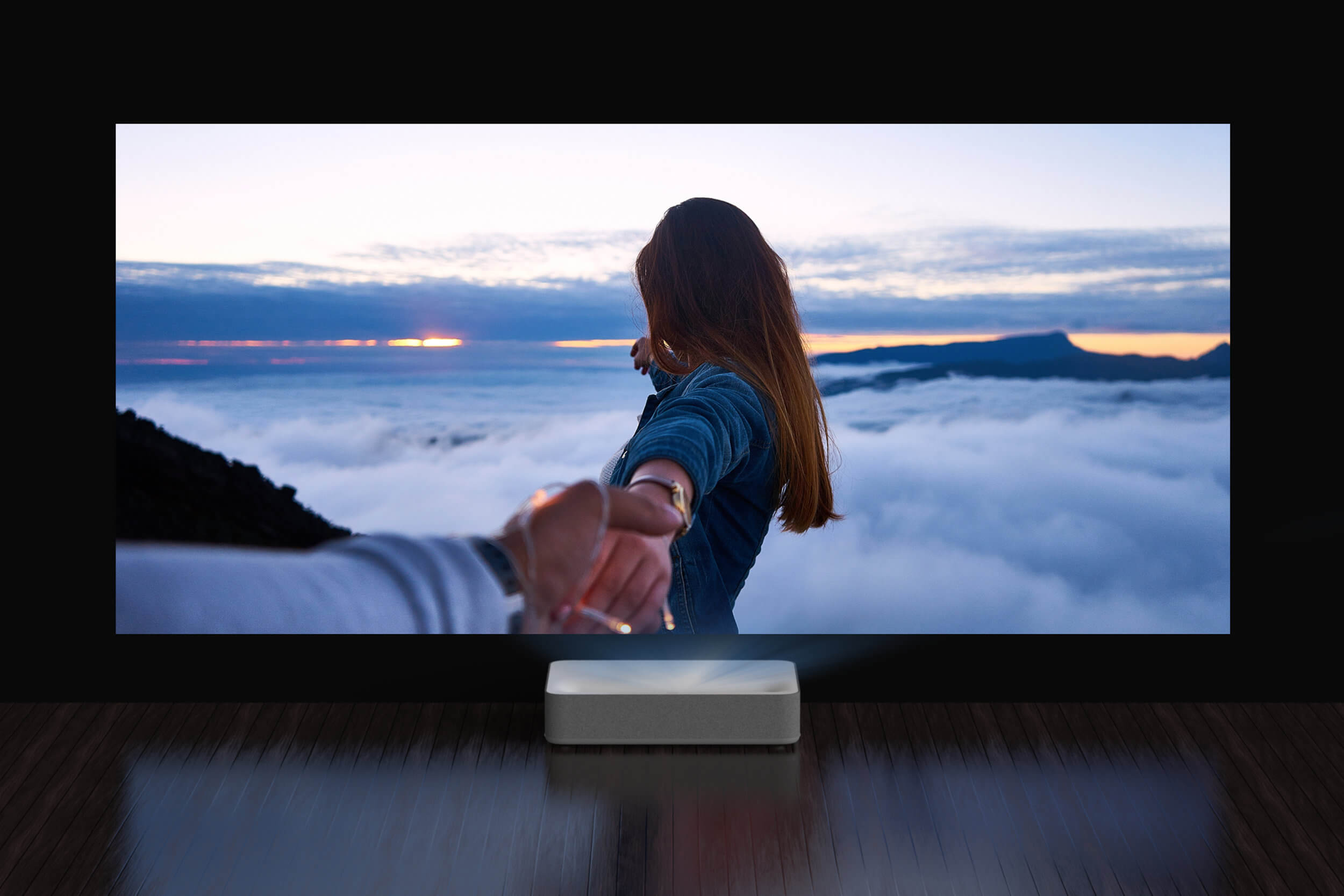 Short throw laser projector has a very short throw ratio which is the ratio of the distance from the lens to the screen to the screen width. Short throw laser projectors can project a 70" or a larger image with a few inches away from the screen. One will move around in front of the projector and block your view. With ultra-short throw laser projector, you are able to view bright, colorful and large image in any rooms, classrooms, conferences rooms.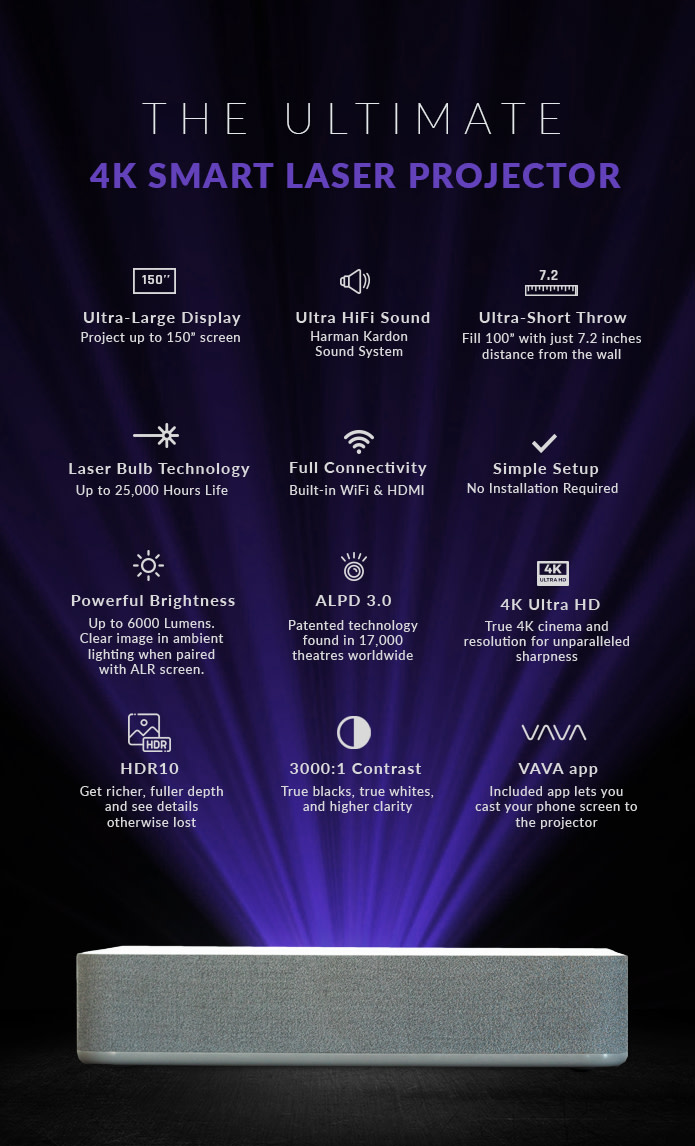 VAVA 4K Ultra Short Throw Laser Projector is the latest to join the fray, if you've got the $2699 to spend ($3499), it's a Serious compelling way to upgrade your home theater experience. With VAVA's 4K Ultra Short Throw Laser Projector, you can have a 150-inch diagonal image from a display that sits just 16.7 inches from the wall.
It's an Ultra HD display with HDR10 support and a single-chip DLP that is pixel-shifted from 1920×1080 to 3840×2160 resolution. With attractive contemporary styling, it looks good sitting on an AV bench whether it's turned on or off. On paper, it beats out of Xiaomi 4k UST projector with better sound and higher lumens.
➤ 150" Display
➤ HDR10 (sharper contrast, deeper colors, clearer details)
➤ ALPD 3.0 (cinema-quality – used in 17,000 theaters)
➤ Ultra-Short Throw (7.2 inches for 100" screen)
➤ 3000:1 Contrast
➤ 6000 Lumens
➤ Harman Kardon Sound (with dts-HD & Dolby Audio)
➤ Easy Setup (no mounts needed)
➤ Sleek Design
4K Ultra HD Resolution
The VAVA 4K Projector projects in full 4K resolution with HDR 10. With over 8 million enhanced pixels, you'll see every detail. Experience your games, shows, and movies sharper and clearer than ever before.
3000:1 native contrast
VAVA 4K Ultra Short Throw Laser Projector features 3000:1 native contrast, well over the 2000:1 standard in cinemas. It also features 1920×1080 resolution and support for HDR, so details are clear, even in the dark.
Superb Color Range
An innovative three-stage color wheel technology gives you a 60-80% improvement on red light projection and provides rich and faithful color reproduction to all your videos and films.
ALPD 3.0
This is the same technology used in over 17,000 top movie theaters worldwide. Not only are pictures bright and clear, the ALPD 3.0 allows us to enhance product life and reduce the machine's size.
6000 lumen brightness
The projector's light source offers brightness of up to 6000 lumens.
Hassle-Free Setup
Since VAVA projector has a short throw, there's no need for mounting systems, cable extensions, or ceiling placements. If you ever need to move your projector, simply unplug it and move where you want it.
Ultra-Long Lamp Life
Lamp life of over 25000 hours, you'll never have to replace bulbs again.
Harman Kardon Sound
Every VAVA 4K Projector is equipped with a built-in soundbar engineered by Harman Kardon to play ultra high-fidelity sound with your ultra high-definition image.
VAVA 4k ultra short throw laser projector is not just technically more advanced than TV, it's better for your eyes. Projected images cause significantly less eye strain than TV and monitor images do.
Related posts